Our friendly team is excited to meet you! Here at Pediatric Dentistry North, P.C. we have an amazing group of individuals dedicated to creating a caring and comfortable dental home for you and your child. We will go the extra mile to help your child feel relaxed and comfortable and give them a positive dental experience so that they can avoid feelings of stress, apprehension and anxiety. Give us a call at 317-571-8000 to schedule an appointment with our pediatric dentist, Dr. Scott Morgan, and learn more about pediatric dentistry in Indianapolis, Indiana!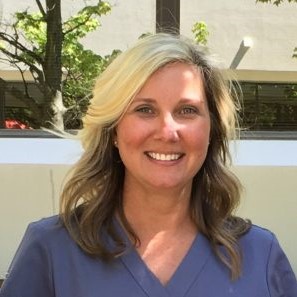 Suzi
Practice Administrator & Certified Dental Assistant
Suzi has been part of the Pediatric Dentistry North, P.C. family since 1993. She attended J. Everett Light Career Center where she completed the two-year Dental Assisting Program to receive her Expanded Duties Certificate. Soon after, she became a certified dental assistant, which allowed her to gain privileges at St. Vincent Hospital and assist the doctors in the operating room. She is also the operations manager and is one of the ladies who helps create a fun experience for you and your child during your visits to our office.
Suzi enjoys being part of our team because of the family-friendly atmosphere and because she loves working with children – it has been fun to watch the kids who visit our office grow up!
On the personal side, Suzi has two children, Maddie and Spencer, who keep her on the move with all their activities. Both of them love coming into the office for their dental care. Suzi enjoys spending time with her family and friends and likes to read in her spare time.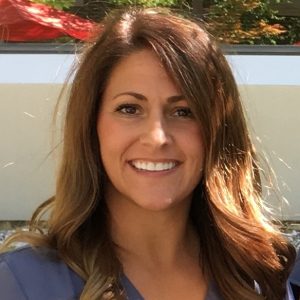 Gena
Operations Manager & Certified Dental Assistant
Gena joined our team in May 2004 as a business assistant. She developed an interest in working with patients in the clinical environment and has been a chairside assistant since 2005, earning the certified dental assistant designation and the privilege to assist our doctors on hospital cases. She enjoys the variety of duties that she encounters every day, but it is the personal interaction with our great patients that is most rewarding.
Gena has a son, Austin, who enjoys all things sports. Outside the office, she enjoys attending her son's sporting events, home decorating and DIY projects.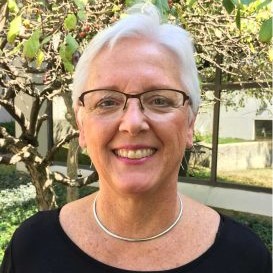 Gayle graduated from Indiana State University in 1979 with her Bachelor of Science degree in speech communication and journalism as an Alan C. Rankin Distinguished Senior. In 1980, she completed her Master of Education degree in college student personnel and higher education administration from Bowling Green State University. Gayle joined our team in December 2015, working to keep our office running smoothly by confirming appointments, coordinating referral letters with Morgan and covering the front desk. She enjoys greeting our patients and their families and interacting with all who enter our office. Being able to help children feel comfortable coming to the office is so important and working with special needs patients is incredibly rewarding!
Gayle and her husband, Larry, have been married for over 29 years. They have one son, Christopher, who has been a patient here at Pediatric Dentistry North, P.C. since he was 2 years old! They have two cats, Fluffers and Enzo, and a lop-eared bunny named Oreo.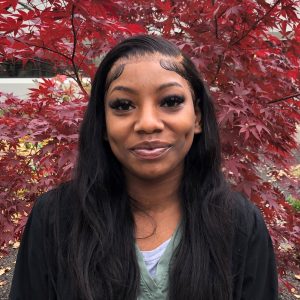 Royale joined our team in June 2022 after graduating in 2018. Pediatric Dentistry North, P.C. feels like home! She loves how everyone works to make you comfortable and help where they can while still having fun and getting work done. Royale keeps our office on track, on schedule and running smoothly! You can find her calling patients back when they're ready, doing exams, sterilizing our instruments and prepping with Dr. Morgan.
Royal is grateful to have her mother, Brandy, and aunt, Breda, as part of her family.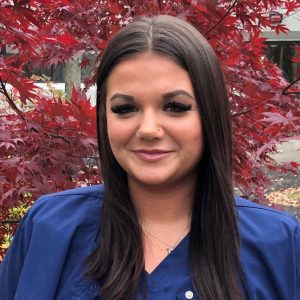 Taylor has been with Pediatric Dentistry North, P.C. since 2021, and she brings her positivity, education, communication skills and team spirit with her to work every day. She loves how she is always learning something new and interacting with children at our office. She loves our team!
Taylor's college career was interrupted by the COVID-19 pandemic, but she looks forward to returning to school and pursuing her nursing career. She loves working out, trying new foods, watching movies, spending time with her family and traveling with her little one-year-old daughter, Layla.